The latest 13-inch and 14-inch MacBook Pros aren't just the same laptop in two different sizes — they're two entirely different machines. While the new 13-inch MacBook Pro has Apple's latest and greatest M2 processor for churning through demanding tasks, it also has a years-old design that's starting to show its age. Meanwhile, the 14-inch MacBook Pro is a bit of a reinvention for the Mac notebook, delivering some big upgrades (like a better display, webcam and speaker set) while bringing back some things we missed (like physical function keys and actual ports).
That being said, the 13-inch MacBook Pro M2 still has some major benefits — particularly its much lower starting price of $1,299 compared to $1,999 for the 14-inch. Wondering which one to spend your cash on? We've tested both of these high-end laptops extensively, and we're here to make that decision easier for you.
| | | |
| --- | --- | --- |
| Processor | Apple M2 | Apple M1 Pro/M1 Max |
| Memory | 8GB / 16GB / 24GB | 16GB / 32GB / 64GB (M1 Max only) |
| Storage | 256GB / 512GB / 1TB / 2TB SSD | 512GB / 1TB / 2TB / 4TB / 8TB SSD |
| Display | 13.3-inch, 2560 x 1600 Retina display | 14.2-inch, 3024 x 1964 Liquid Retina XDR display |
| Camera | 720p FaceTime HD camera | 1080p FaceTime HD camera |
| Speakers | Stereo speakers with Spatial Audio support | Six-speaker sound system with Spatial Audio support |
| Keyboard | Magic Keyboard with Touch Bar | Magic Keyboard with physical function keys |
| Ports | Thunderbolt 4 USB-C (2), headphone jack | Thunderbolt 4 USB-C (3), SDXC card slot, HDMI port, headphone jack, MagSafe charging port |
| Battery life (rated) | Up to 20 hours | Up to 17 hours |
| Size and weight | 11.97 x 8.36 x 0.61 inches, 3 pounds | 12.31 x 8.71 x 0.61 inches, 3.5 pounds |
| Price | $1,299 | $1,999 |
You want the cheapest MacBook Pro — and one that's still super fast

Mike Andronico/CNN
One of the most appealing things about the MacBook Pro M2 is its price. At $1,299, it's the most affordable MacBook Pro in Apple's current lineup, and significantly more affordable than the $1,999 14-inch model. You're not skimping out on much at that price either, as the 13-inch model is the only MacBook Pro that packs Apple's blazing new M2 processor.
The M2-powered MacBook Pro delivered some of the fastest speeds we've ever seen from a laptop, even outpacing its larger sibling on some specific tests. While the 14-inch MacBook Pro is capable of stronger overall performance, thanks to its more advanced processor options (more on that later), the M2 MacBook Pro is just about the fastest laptop you can get for the price and will have no problem handling your intensive Photoshop, video editing and music production needs.
Mike Andronico/CNN
Apple's Touch Bar is polarizing to say the least, but if you care about having one, the 13-inch MacBook Pro is the only Mac that still features it. A mini touchscreen that rests above the keyboard and reacts to whatever app you have open, the Touch Bar lets you finely comb through video clips, quickly mute yourself during video calls and take advantage of emojis and predictive text when chatting in iMessage, to name just a few uses. I'll personally take physical function keys over the Touch Bar any day, but Apple's touch-sensitive strip does have its uses if you're willing to dig into it.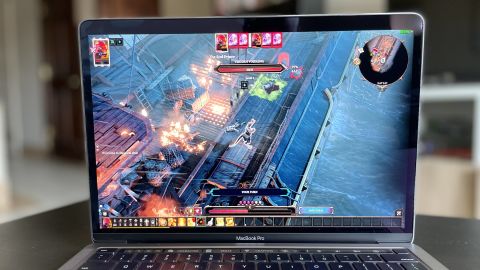 Mike Andronico/CNN
In terms of which of these two MacBook Pros lasts longer, your mileage will likely vary based on which processor you outfit your 14-inch MacBook Pro with. But based on our anecdotal testing — and Apple's own claims — you'll get longer endurance from the 13-inch MacBook Pro M2 model in many cases.
The latest 13-inch model has regularly gotten us through full workdays with plenty of battery to spare, whereas our 14-inch model (which packs an M1 Pro chip) sometimes taps out in less than eight hours. Both laptops were heavily taxed by our battery test (which consists of continuous 4K video playback), though the 14-inch model lasted about a half hour longer than the 13-inch model. Still, in everyday real-world use, the 13-inch MacBook Pro has proven to be the winner in our experience.
Michael Andronico/CNN
While both of these laptops are ridiculously fast, the 14-inch MacBook Pro is the better option if you truly need best-of-the-best performance for heavy workloads. Whereas the 13-inch MacBook Pro's M2 chip is notably better than the base M1 processor you'll find in the 2020 MacBook Pro and MacBook Air, the 14-inch model's choice of M1 Pro and M1 Max processors are largely in a class of their own.
We could bog you down with all the cores, transistors and other jargon that set these chips apart, but you really need to look no further than our basic performance benchmarks between a 13-inch MacBook Pro with M2 and a 14-inch model with an M1 Pro processor. While the M2 MacBook Pro just barely edged out the 14-inch Pro on our Geekbench 5 single-core test — which gives a good indication of how a computer handles basic tasks — the 14-inch MacBook Pro pulled ahead everywhere else by a wide margin.
| | MacBook Pro M2 | MacBook Pro 14-Inch |
| --- | --- | --- |
| Processor | Apple M2 | Apple M1 Pro |
| Geekbench 5 (single-core) | 1,892 | 1,768 |
| Geekbench 5 (multi-core) | 8,904 | 12,463 |
| Shadow of the Tomb Raider (1080p, max settings) | 29 fps | 47 fps |
Apple's 14-inch laptop posted significantly higher Geekbench 5 multi-core scores, meaning the system is more capable when it comes to multitasking and running demanding apps. The larger MacBook Pro was also significantly better when it came to gaming, running the graphically intensive action of Shadow of the Tomb Raider at max settings at a smooth 47 frames per second (fps) — a big leap over the just barely playable 29 fps we got from the 13-inch model.
Keep in mind that these strong scores came from a 14-inch MacBook Pro with an M1 Pro processor; you can get even better performance if you splurge for a model with Apple's M1 Max chip, which starts at $2,899. The 14-inch model also allows for higher maximum storage and memory at up to 8TB and 64GB, respectively, meaning more free space for those big video files and additional breathing room for smoothly jumping between lots of apps at once. The M2 MacBook Air is still an absolute monster for the price, but the 14-inch is the way to go if the bulk of your day consists of extra-intensive creative or visual work.
You want the best display, webcam and speakers on a MacBook

Mike Andronico/CNN
Beyond its superior performance, the 14-inch MacBook Pro provides a significantly better multimedia experience than its smaller sibling. Its screen is bigger (obviously), but what's more significant is that it has slimmer bezels, a much higher resolution and more advanced Liquid Retina XDR technology that all combines for a more immersive viewing experience.
When we played the same 8K nature video side by side on the 13-inch and 14-inch MacBook Pros, there wasn't a massive night-and-day difference, though the advantages of the larger model were pretty obvious right away. Aside from simply being able to see things more easily, thanks to the bigger display area, the video's detailed wildlife shots simply looked sharper on the 14-inch due in no small part to its crisper 3024 x 1964 screen resolution. But the 14-inch model stood out even more during basic day-to-day use — I could simply see more at once — and makes the 13-inch look especially dated every time I go back to it.
The difference in audio quality between the two laptops is even starker, as the 14-inch MacBook Pro's six-speaker setup blows the 13-inch model's stereo speakers out of the water. The sunny alternative rock of Tigers Jaw's "Cat's Cradle" sounded booming and crisp on the 14-inch model, to the point where the same song sounded soft and tinny on the 13-inch model by comparison. Considering the 13-inch MacBook Pro still trumps most other laptop speakers, that's really saying something.
Mike Andronico/CNN
The 14-inch MacBook Pro also has an advantage in the webcam department, sporting a 1080p FaceTime camera compared to the 720p shooter on the smaller model. While both of these webcams will be perfectly suitable for your daily video meetings, I did find that my face looked slightly sharper and more true to life on the 14-inch when comparing selfies I snapped on both laptops.
Mike Andronico/CNN
Here's what really excites me about the 14-inch MacBook Pro compared to its smaller siblings: It has actual ports! Whereas the 13-inch MacBook Pro is limited to two Thunderbolt 4 USB-C ports for both charging and accessories, the 14-inch model gets you a total of three Thunderbolt 4 ports, an SDXC card slot for easily accessing photos from your camera and an HDMI port for connecting to external displays.
Just as significantly, the 14-inch model also has a MagSafe charging port and respective cable — you know, the same kind of magnetic, "easily detachable if someone trips on it" charger you might remember from the MacBooks of old. On top of reducing the chances that your MacBook suddenly goes flying, the MagSafe cable charges extremely quickly and keeps your three USB-C ports free for important peripherals. By comparison, you'll likely need to pick up a USB-C hub for your 13-inch MacBook Pro if you plan on plugging a lot of things into it.
I can't overstate how nice it feels to have a set of large, physical function keys on a MacBook, and the 14-inch Pro delivers just that. Doing things like adjusting volume, brightness and media playback is just easier and more satisfying with a single physical click, and I still find myself frustrated every time I have to perform multiple touch inputs just to do the same thing on the Touch Bar.
Mike Andronico/CNN
The 13-inch MacBook Pro and 14-inch Pro are both two of the best MacBooks you can buy, and choosing between the two largely comes down to your budget, performance needs and how much you value things like a better display or a healthy amount of ports.
At $1,299, the 13-inch MacBook Pro is a worthwhile pick for "prosumers" who want a lot of muscle for basic video editing or graphics work but don't want to pay upward of $2,000 for a laptop. It's the fastest laptop you'll find at its price, and while its design isn't as modernized as its 14-inch counterpart, it still has a great keyboard and display.
The $1,999 14-inch MacBook Pro is the better option for serious pros who need as much power as possible. And even if you're a regular consumer who has the cash to spend, you may find its superior display, speakers and webcam to be worth the price of admission. Plus, you don't have to deal with that pesky Touch Bar.
Those leaning toward the 13-inch MacBook Pro should also keep an eye out for the new MacBook Air M2, which is set to launch this month starting at $1,199. It combines the speedy performance of the M2 chip with some of the more modern touches of the 14-inch MacBook Pro (like a better webcam, a Liquid Retina display and physical function keys), all for $100 less than the 13-inch MacBook Pro. We'll have more to say on the new Air once we get our hands on one, so stay tuned.