With the official launch of the Apple Watch Ultra looming, Apple has shared a support document on the new Depth app that's exclusive to the device. The Depth app is designed to be used for recreational diving, providing information on water temperature, current depth, maximum depth, and more. The ‌Apple Watch Ultra‌ can be used for dives up to 40 meters deep (130 feet).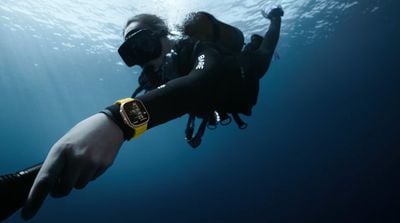 Apple warns that the Depth app is not a dive computer and it cannot provide decompression stop information or gas analysis. In situations where failure of the ‌Apple Watch Ultra‌ could lead to death or personal injury, Apple suggests using a secondary depth gauge and timer. Apple further recommends that the ‌Apple Watch Ultra‌ only be used by trained divers following safety protocols and diving with a buddy.
The support document walks through how to use the Depth app, which can be set to auto launch whenever the ‌Apple Watch Ultra‌ is submerged in water that is one meter deep or more. When the Depth app launches, the ‌Apple Watch Ultra‌ will turn on Water Lock to prevent screen activation, and a session can be ended with a press and hold on the Digital Crown.
The Depth app will provide a consolidated dive summary at the end of a dive session, letting users know the length of the dive, the water temperature range, and maximum depth.
Apple has also provided a new support document that outlines everything the new Compass app can do, highlighting how to use the Backtrack and Waypoint features, plus there is information on the recommended temperature range for various ‌Apple Watch Ultra‌ activities.
Related Stories
Apple Watch Ultra Can Check the Water Temperature As You Dive and Swim
The new Apple Watch Ultra features the ability to measure the temperature of the water as you're diving, swimming, and doing a range of other water sports thanks to new functionality, added durability, and a new Depth app pre-installed on the watch. The Apple Watch Ultra is the most rugged Apple Watch yet, with features and design elements explicitly designed for swimmers, divers, and…
Apple Watch Ultra 'Depth' and 'Siren' Apps Appear on App Store Ahead of Device's Launch This Friday
Apple has listed two new apps on the App Store that are made exclusively for the Apple Watch Ultra: "Siren" and "Depth." Siren is designed for emergency situations if users become lost or injured to draw attention to their location. When the Action button on Apple Watch Ultra is long-pressed, Siren emits a unique 86-decibel sound pattern which can be heard up to 600 feet (180 meters) away. …
Apple Watch Ultra: 10 New and Noteworthy Features
Apple on Wednesday unveiled the new Apple Watch Ultra, a larger, more advanced smartwatch aimed at athletes, explorers, and swimmers. The Apple Watch Ultra shares the same features as the new Apple Watch Series 8, but there is a whole lot more to the watch than meets the eye. Here are just some of the more notable differences that are worth highlighting. Operating Temperatures Are Extreme …
Apple Watch Ultra Priced at $799, Available to Order Today Ahead of September 23 Launch
The all-new Apple Watch Ultra unveiled today is available to pre-order starting today in the U.S., Canada, Australia, France, Germany, India, Japan, the U.K., and more than 40 other countries and regions around the world, with pricing set at $799. Apple Watch Ultra will launch in stores and begin arriving to customers on September 23. Inspired by the "most extreme activities," the Apple…
Apple Watch Ultra Unboxing and Hands-On
It's the official launch day for Apple's latest and greatest product, the Apple Watch Ultra. We picked up one of the new watches to check out the features and compare it with the Apple Watch Series 8 to see if it's worth the upgrade. Subscribe to the MacRumors YouTube channel for more videos. The Apple Watch Ultra is Apple's largest watch to date, measuring in at 49mm, a full 4mm over the…
Apple Watch Ultra Ships With New Braided Charger
The new Apple Watch Ultra ships with a braided Apple Watch to USB-C charger, according to Apple's product page, the "What's in the box" section, and Apple Store retail documentation seen by MacRumors. The Apple Watch Ultra is the first Apple Watch to ship with the uniquely braided cable. The Apple Watch Ultra features an all-new design that's more rugged with advanced features for athletes,…
Popular Climbing App Redpoint Updated With Apple Watch Ultra Support
Popular climbing app Redpoint has been updated for Apple Watch Ultra, bringing Action Button support into the mix for all climbing disciplines. As a fitness tracker for bouldering and climbing, Redpoint tracks climbing routes and altitudes using the barometric sensor in your Apple Watch or iPhone, generating an automatic logbook of your ascents. The app comes with full Apple HealthKit…
Apple Watch Ultra Repairs Cost $499 Without AppleCare+
Apple Watch Ultra repairs cost $499 without an AppleCare+ plan in the United States, according to Apple's website. This fee applies to an Apple Watch Ultra with damage to the titanium case, display, buttons, sensors, or other components. Apple can also replace the battery in an Apple Watch Ultra for a $99 fee, regardless of whether the customer has AppleCare+ coverage. By comparison,…
Popular Stories
Android App Copying iPhone 14 Pro's Dynamic Island Released on Play Store
A copycat version of the iPhone 14 Pro's Dynamic Island has arrived on Android's Google Play Store in the form of an app called "dynamicSpot." The app, still in beta, offers customers several different experiences at the top of their smartphones. In its current form, dynamicSpot offers playback control for songs, timers, battery status, and more features coming soon, according to the app's…
Video Review: Four Days With the iPhone 14 Pro Max
Apple on Friday released the new iPhone 14 models, and MacRumors videographer Dan picked one up on launch day. He's been using the iPhone 14 Pro Max non-stop since it came out, and over on the MacRumors YouTube channel, has shared his initial thoughts on the day-to-day experience with the latest iPhone. Subscribe to the MacRumors YouTube channel for more videos. Dan's mini review highlights…
New 14-Inch and 16-Inch MacBook Pros Reportedly Launching Later This Year
Apple plans to release new MacBook Pro models in the fourth quarter of 2022, according to supply chain publication DigiTimes. The report does not mention specific models, but it very likely refers to the next-generation 14-inch and 16-inch MacBook Pros given that the 13-inch model was already updated earlier this year. There has been uncertainty surrounding the timing of new 14-inch and…
Meta Sued Over Tracking iPhone Users Despite Apple's Privacy Features
Meta is facing a new proposed class action lawsuit that accuses it of tracking and collecting the personal data of iPhone users, despite features and policies made by Apple which are meant to stop that same type of tracking. In August, it was revealed that with the Facebook and Instagram apps, Meta can track all of a user's key taps, keyboard inputs, and more, when using the in-app browser….
Ten Things AirPods Pro 2 Tell Us About AirPods Max 2
Upon the release of the second-generation AirPods Pro, the AirPods Max became the oldest current-generation AirPods product still in Apple's lineup. Introducing several new features like Adaptive Transparency and the H2 chip, the second-generation AirPods Pro may provide some of the best indications yet of what to expect from the second-generation AirPods Max. Almost two years later, rumors…
AirPods Pro 2 Engravings Appear in iOS During Pairing and Connecting
Customers who personalize their second-generation AirPods Pro charging case with an engraving will now have that engraving reflected directly on iOS as they pair and connect their AirPods Pro. Apple allows customers to personalize their AirPods Pro charging case with a special engraving that can include select emojis and Memojis. Unlike before, starting with the second-generation AirPods…