A prototype "Apple Computer A" Apple-1 computer that was owned by Steve Jobs is up for auction starting today, and it is expected to fetch upwards of $500,000.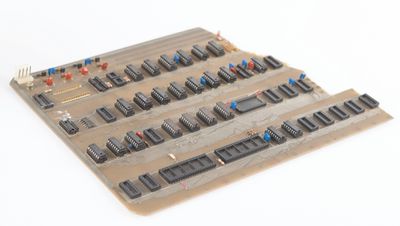 Hand-soldered by Steve Wozniak in 1976, the Apple Computer A printed circuit board was used by Steve Jobs to demonstrate the Apple-1 to Paul Terrell, who was the owner of The Byte Shop in Mountain View, California. The Byte Shop became the first retailer of the Apple-1 computer after Terrell ordered 50 fully assembled machines and sold them for $666.66 each.
The Apple Computer A has been matched to photographs taken by Terrell in 1976, showing the prototype in use. This machine is listed as the number two machine on the Apple-1 Registry and was considered "lost" until it was authenticated by Apple-1 expert Corey Cohen.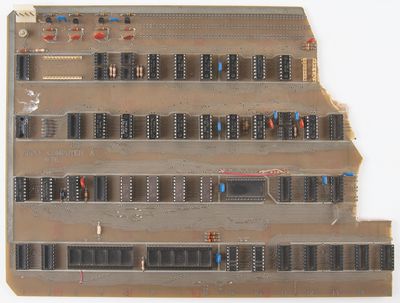 As described by RR Auctions, the site hosting the sale, there is some damage to the board.
This prototype resided on the 'Apple Garage' property for many years before being given by Steve Jobs to its current owner approximately 30 years ago. At that time, Jobs had been ousted from Apple and was looking forward to the promise of NeXT and Pixar. The board's present condition lends some insight into Jobs's judgment of it: he saw the prototype not as something to be enshrined, but as something to be repurposed. Several of the ICs have been plucked from their sockets, as have the microprocessor and other components, presumably for use on early production Apple-1 Computers.

The board appears to have been damaged by pressure on the upper right, resulting in a crack that runs from adjacent to the power supply area above D12 down through the bottom of the board to the right of A15. The missing piece is presumed to have been discarded, but can be reimagined thanks to Paul Terrell's photographs of the complete board. One of the distinguishing features of the "Apple Computer A" prototype was its use of three orange Sprague Atom capacitors, rather than the familiar 'Big Blue' capacitors used on the production Apple Computer 1.
Compared to production Apple-1 machines, the prototype has wording that reads "Apple Computer A," it has a different processor, and it lacks the green protective coating on typical Apple-1 computers.
Because of the rarity of the prototype, RR Auction expects it to fetch a high price at auction despite the damage.
Related Stories
Rare Apple-1 Computer Signed by Steve Wozniak Up for Auction
An original and functional Apple-1 computer is up for auction on eBay, where it could fetch hundreds of thousands of dollars. The Apple-1 computer available for sale is known as the "Schlumberger 2" Apple-1, and it has been restored to full working condition. One of only dozens of Apple-1 computers remaining, the device is said to feature "almost all period-correct components" with the…
Rare Check Signed by Steve Jobs and Steve Wozniak Expected to Fetch $25,000+ at Auction
As part of a "Steve Jobs Revolution" collection, RR Auction is this week selling off multiple pieces of rare memorabilia related to Jobs, including a check that was signed by both Steve Jobs and Steve Wozniak. Dated July 15, 1976, the "Apple Computer Company" check is made out to Kierulff Electronics for $3,430. The check was written in the same month that Wozniak demonstrated the first…
Rare First Batch Apple-1 to Fetch Over $250,000 at Auction
Yet another rare Apple-1 computer is up for auction, and this one already has a bid of over $250,000. The Apple-1 was the first Apple product created by Steve Jobs and Steve Wozniak when Apple Computer was founded, and there are few left in existence. Apple-1 models that come up for auction often fetch high prices because of their rarity, and this particular Apple-1 up for sale is number 7…
Apple VideoPad Device Scrapped by Steve Jobs Headed to Auction
Bonhams today announced that it will be auctioning several rare prototype Apple devices on November 3, including an unreleased VideoPad. The VideoPad was intended to be a personal digital assistant (PDA) device similar to Apple's Newton MessagePad series, with Apple testing three versions of the device between 1993 and 1995, including the VideoPad 1, VideoPad 2, and VideoPad 3, according to…
Steve Jobs Posthumously Awarded Presidential Medal of Freedom
Apple co-founder and former CEO Steve Jobs was today posthumously awarded the Presidential Medal of Freedom by U.S. President Joe Biden. When announcing recipients earlier this week, The White House said that Jobs' inventions changed the way the world communicates. Steve Jobs (d. 2011) was the co-founder, chief executive, and chair of Apple, Inc., CEO of Pixar and held a leading role at the…
Steve Jobs to Be Posthumously Awarded Presidential Medal of Freedom
Apple co-founder and former CEO Steve Jobs is to be posthumously awarded the Presidential Medal of Freedom, the White House today announced. The Presidential Medal of Freedom is the United States' highest civilian honor, presented to individuals "who have made exemplary contributions to the prosperity, values, or security of the United States, world peace, or other significant societal,…
Apple Allegedly Prototyped a Redesigned 27-Inch iMac With M1 Max Chip and Black Finish Last Year
Apple prototyped at least three larger iMac models with Apple silicon chips last year, according to information shared by MacRumors forum member Amethyst back in March. The forum member said they obtained the details from an acquaintance. We've elected to share this iMac information given that Amethyst accurately revealed details about the Mac Studio before anyone else, including the name of …
Rare Apple-1 Computer in Koa Wood Case Fetches $500,000 at Auction
A rare fully functional Apple-1 computer has sold for $500,000 at auction this week, according to John Moran Auctioneers in California (via BBC News). The rare Hawaiian koa wood-cased Apple-1 has had only two owners, a college professor and his student to whom he sold the machine for $650. The sale included user manuals and Apple software on two cassette tapes. Apple co-founder Steve…
Popular Stories
iOS 16 Beta 5: Battery Percentage Now Displayed in iPhone Status Bar
With the fifth beta of iOS 16, Apple has updated the battery icon on iPhones with Face ID to display the specific battery percentage rather than just a visual representation of battery level. The new battery indicator is available on iPhone 12 and iPhone 13 models, with the exception of the 5.4-inch iPhone 12/13 mini. It is also available on the iPhone 11 Pro and Pro Max, XS and XS Max, and…
Color Options for All iPhone 14 Models: Everything We Know
The iPhone 14 and iPhone 14 Pro models are rumored to be available in a refreshed range of color options, including an all-new purple color. Most expectations about the iPhone 14 lineup's color options come from an unverified post on Chinese social media site Weibo earlier this year. Overall, the iPhone 14 and iPhone 14 Pro's selection of color options could look fairly similar to those of the …
Everything New in iOS 16 Beta 5: Battery Percentage in Status Bar, Find My Changes and More
Apple today seeded the fifth beta of iOS 16 to developers for testing purposes, introducing some small but notable changes to the iOS operating system. Subscribe to the MacRumors YouTube channel for more videos. We've rounded up everything new in the fifth beta below. Battery Percentage in Status Bar The battery icon in the status bar now displays the exact battery percent, a feature that …
Bigger iPhone 14 Pro Max Camera Bump Shown Alongside iPhone 13 Pro Max
The camera bump on the upcoming iPhone 14 Pro Max is expected to be the largest rear lens housing Apple has ever installed on its flagship smartphones, and a new photo offers a rare glimpse at just how prominent it is compared to Apple's predecessor device. iPhone 14 Pro Max dummy (left) vs iPhone 13 Pro Max All iPhone 14 models are expected to see upgrades to the Ultra Wide camera on the…
Gurman: Apple Preparing Pre-Recorded iPhone 14 and Apple Watch Series 8 Event
Apple has "started to record" its virtual September event, where it's expected to announce the upcoming iPhone 14 lineup, the Apple Watch Series 8, and a new "rugged" Apple Watch model, according to Bloomberg's Mark Gurman. Writing in his latest Power On newsletter, Gurman says the event, which is expected to take place in the early part of September, is already under production, implying…
Beyond iPhone 14: Five Apple Products Expected to Launch Later This Year
While the iPhone 14 and Apple Watch Series 8 are expected to be announced in September as usual, there are several more Apple products rumored to launch later this year, including new iPad and Mac models and more. Beyond the iPhone and Apple Watch, we've put together a list of five Apple products that are most likely to be unveiled by the end of 2022. Second-Generation AirPods Pro Apple…